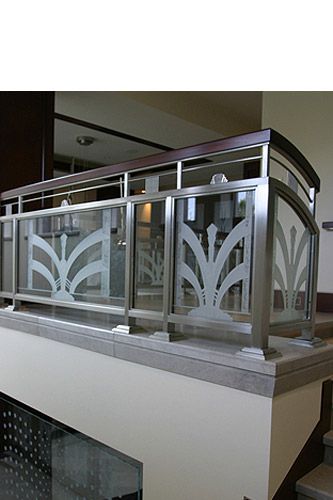 Stainless Steel & Carved Glass Top of Stairs
Michael and Janice Lowther/ Deep Carved Glass
Laguna Niguel, California
"Her work and talent are unparalleled."
De Carter-Ray, who owns Classical Glass Studios, designed, fabricated, and installed beautiful, and exquisitely carved, etched and polished art glass extensively throughout our new home. She created our large four-panel front entry doors, inserts and banisters for three staircases, the surround of the two story foyer, our library doors and our wine room doors and decorative lighted backdrop display area. Her work and talent are unparalled. Our home is in the art deco style, and she did extensive research and consultations with us along with the stainless steel and nickel fabricator, before making life-size drawings and glass samples to make sure we would get exactly what we envisioned. She is one of a kind, and we couldn't be happier with her lovely work, which we enjoy every single day!
Michael and Janice Lowther
Laguna Niguel, California
________________________________________________
About the project
Project needed to have a continuity throughout the home.
It was achieved through the work and dedication of the entire design team working on this beautiful home.Their were many meetings with the architect Chris Light, the General contractor Dick Crawford, the interior designer on the project Carol McMahann, the collaboration of all of us made this challenging project a complete success in my view. The staircase was fabricated by Bill Cosby, he helped to bring to life the designs I was hired to create. I just love Art Deco as a design period. My love of the industrial revolution in the 20's and 30's give a great source of inspiration to draw upon.