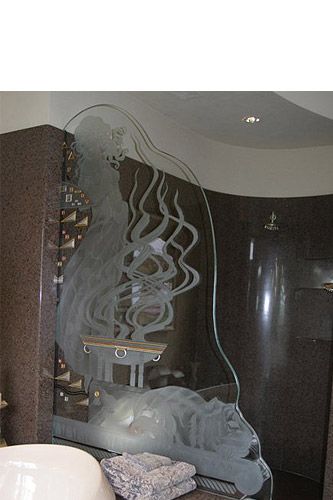 "Protecting the Sacrid Fires"
Anna Lee Jennings/ Etched Glass
Pelican Point, Newport Beach, CA
De, we just wanted to let you know how much we are enjoying the beautiful glass pieces you made for our house. Not only are you a "fine artist" you were also very reasonable and professional to deal with!
The carving was all that we had hoped for, the gold inlay caught the exact color of the details in our new home.
Everyone comments on how beautiful your work is.
About the project:
This was a private residence in Pelican Point, Newport Beach, CA. The Jennings wish for a private and very sensual space for their new home. The theme I suggested is protecting that which is sacred in relationship.
A timless design set back in Egypt was suggested, while the burning of incence in bowl was set alight, while challenging those who enter to be aware of the sleeping tiger within. That spirit in all of us, to care for with grace and simplicity.